Welcome to CorvettesofLakeCounty.org
Corvettes of Lake County club started in March 2003.
There are currently 35 memberships. Join Us!
Club Officers:
President: John Yde, c162yde@gmail.com
Vice-President: Jackie Hansen
Treasurer: Steve Cleveland
Secretary: Sandi Thompson
Membership Coordinator: Steve Cleveland
WSCC Representatives: Steve Cleveland & Bill Landis
Historian & Photographer: John Yde
Event
COLC, Pre-registration party, Friday May 24th. 2013
Download Flyer
The Hansens have graciously offered to have a pre-registration for our "Run to the Lake" Corvette show at their house at 1457 20th Street. Enjoy appetizers, beer on tap, & wine.
Directions from downtown Lakeport: Go North on Main St. to High St. turn left on 20th St. Go all the way to the end of 20th St. House on left.
News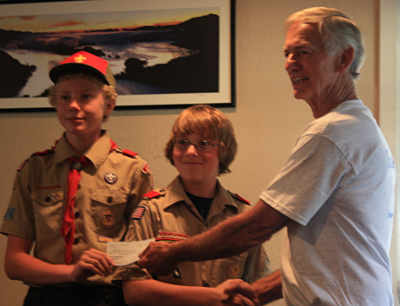 Corvettes of Lake County President John Yde, at right, presented a check for $300 to Boy Scout Troop 42 representatives Brent Hinchcliff (left) and Ian Pickersgill on Tuesday, June 12, 2012, at Guido's Pizza in Kelseyville, Calif. Photo by Gail Salituri.
Corvettes of Lake County club honors Boy Scout Troop 42
Wednesday, 13 June 2012, by Gail Salituri
www.lakeconews.com
LAKEPORT, Calif. – It's become a tradition: Boy Scouts Troop 42 carries the Corvettes of Lake County banner for Lakeport's Memorial Day Parade.
As part of this year's Memorial Day celebration, the ninth annual Corvettes of Lake County "Run to the Lake" took place.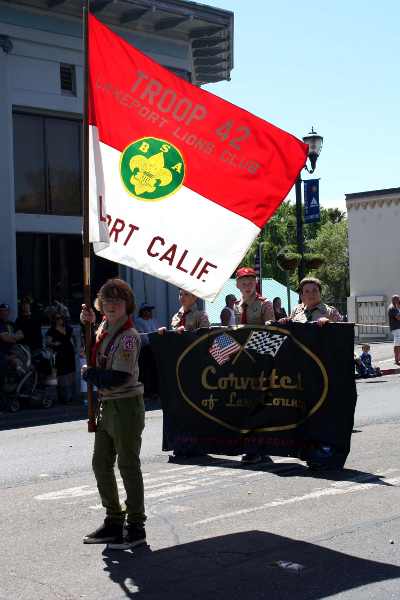 There were 60 Corvettes in addition to some very unusual pace cars, with Troop 42 leading the way for these car enthusiasts that came from as far away as Oregon.

The Corvettes of Lake County presented Boy Scout Troop 42 with a check for $300 at the club's meeting on Tuesday at Guido's Pizza in Kelseyville.
---
9th Annual "RUN TO THE LAKE" Corvette Show a Success
May 26 & 27, 2012
We had sixty Corvettes in the LAKEPORT Memorial Day parade, with 58 Corvettes parked on the green, at the Riviera Hills Restaurant and golf course in Kelseyville. 120 people at the dinner, on Saturday, and 100 Corvettes in our Corvette show at Library Park in Lakeport on Sunday. This was the biggest show in the nine years wi have been doing this. Corvettes from Northern California and Oregon.
---
Corvette club donation supports new playground for Freedom House
Sunday, 02 October 2011, by Elizabeth Larson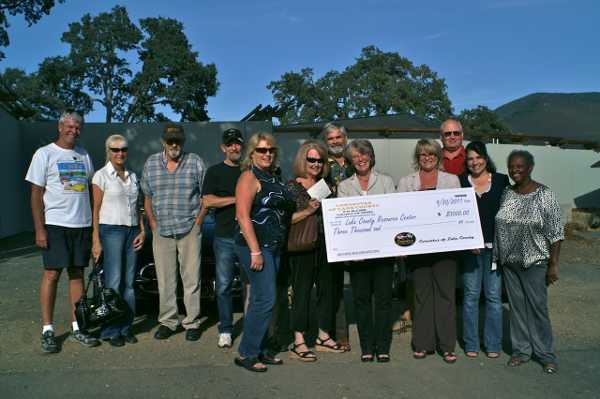 KELSEYVILLE, Calif. – Thanks to the generosity of local Corvette enthusiasts, children at Lake County's domestic violence shelter will have a place to play.
On Thursday, Sept. 29, members of the Corvettes of Lake and Mendocino Counties presented a check for $3,000 to Lake Family Resource Center Executive Director Gloria Flaherty.
The gift will help build a new playground for children at Freedom House.
The donation was a surprise for Flaherty, who had been in an orientation meeting for new board members at Lake Family Resource Center's business office, located at 5350 Main St. in Kelseyville, on the same property as the shelter.
Flaherty was asked to step out into the parking lot, where several newer Corvettes, as well as a vintage Corvette owned by John Yde, were parked.
Members of the club then presented Flaherty with the check for $3,000 to support her plans for the playground.
Flaherty, who was caught off guard by the gift, was brought to tears.
"I'm so excited," she said.
A playground for Freedom House's children had been at the top of Flaherty's wish list. She said children who are housed at the shelter haven't had a place to go outside and play.
Before the Corvette club's donation, she had begun exploring grants and funding to make it happen. The total estimated cost is $7,500, and the $3,000 gift will lay the groundwork for raising the remainder of the playground funds through matching grants and other donations.
Corvette club members noted that supporting the playground was a natural fit for them, as they're all kids at heart.
This isn't the first sizable donation from the club to Lake Family Resource Center.
In June 2010, the club gave a $3,000 gift to the Barbara LaForge Memorial Fund, which supports Freedom House, as Lake County News has reported.
Support from groups like the Corvette club are integral to fulfilling Lake Family Resource Center's mission of offering support to those in need, according to Flaherty.
"We live and die on our relationships in the community," she said.
Community members can make tax-deductible donations to support the playground project. Donations can be sent to Lake Family Resource Center at 5350 Main St., Kelseyville, 95451.
For more information call 888-775-8336 or visit www.lakefrc.com.
---------------------------------------------------------------------------------------------------------------
COLC Logo Download
COLC Logo: High Resolution (for printing), Medium (transparent oval)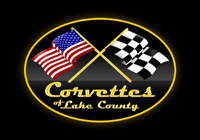 Computer Desktop Wallpaper
---------------------------------------------------------------------------------------------------------------
Upcoming Events
Ongoing: Check out our monthly meetings.